Hi friends!
I hope you guys have been enjoying this gorgeous outdoor weather as much as I have! I'm a Virginia girl, born and bred, so I know that another round of sweaty humid days is likely, but in the meantime I'm dreaming of fall, pulling out my boots and fall outerwear, and cool crisp nights! Just my opinion here but FALL is the true outdoor living season in southern Virginia- and as we all know it can stretch into December- we've even had Thanksgiving outside on our porch! No pollen, no withering humidity- just pretty Fall air, and I just want to be outside and have my people over to sit by our outdoor fireplace!
So, as fall approaches, we have more and more people coming in the store who are building patios, screened porches, moving to a new home, putting in a pool, and the like. We frequently hear the same question- we have a great back porch area / pool / deck/ patio and I am not even sure of where to start.
In our opinion, good design is all about problem-solving, and we approach a design project like a riddle- and we will invariably pepper you with questions, so we can see the full picture-what color is your house? What color and material is your porch / pavers/ pool deck? What colors do you decorate with in your house? What does your kitchen and great room look like?
Are you more traditional, coastal, transitional or modern in your style- and more.
If you are working on a new space, we know it can be daunting. To help you start to get your arms around the best options for furnishing your outdoor living space, we thought we'd give you some ideas, based on tried and true approaches that we use in the store. In future weeks, I'll expand on all of these ideas!
Without further ado, here are Williamsburg Wicker's Top Seven Ideas For Furnishing Your Outdoor Space!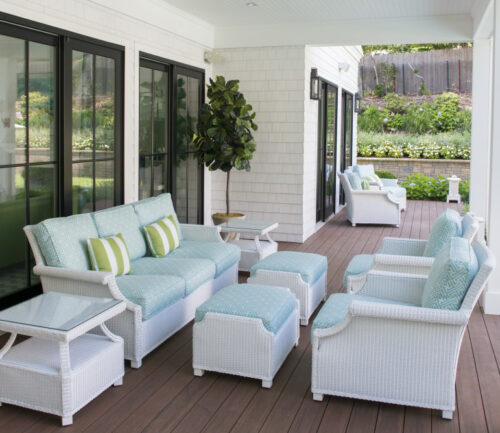 1) WHO IS COMING OVER, ANYWAYS? First and foremost, who is your target audience for entertaining on your patio? Are you a four course meal with perfect place settings for 10, or a buffet in the kitchen with hamburgers? I like to think I'm the first one, and maybe I used to be, but in in the chaotic life of kids and teens and dogs and husbands, we are very firmly in the latter category. Do you need one big table for 10 in the middle? Or could you do a conversation area, a dining space, and a high-top table by the grill instead? What really works for your family and friends? This is always my first question with a blank slate space, and really helps us to determine the direction. I'll elaborate more on this in future posts, as this is a big subject!
2) PLAN IT OUT! Measure out your space, and draw out a to-scale floor plan. If you take pictures of your space and bring us the dimensions, we can do this for you, and together we can try multiple layouts with our to-scale furniture pieces. This simple act answers a ton of questions about what the direction for your space might be.
3) FURNITURE FIRST! This one might be a little controversial, but if if space and budget allow, figure out the furniture arrangements you want on your patio / deck / porch before you build it. Lay out the arrangement to quarter inch scale, and then plan the new space around the furniture. The end result is a very usable space.
4) SYNCH IT UP! The color palate outdoors should work with or at the very least compliment your indoor decorating scheme. We always recommend using an accent color or two from your indoor area as the primary color in your outdoor space. For example, if you have mainly neutrals with a pop of navy inside, maybe use a navy fabric on our outdoor deep seating, as your umbrella fabric, or in your toss pillows.
5) START WITH ART (or rug or pillow)! If you can't figure out what colors you want to use, pick the most complicated piece first and use that as your color palette. In the store, we frequently start with a toss pillow and work backwards.
6) MIX YOUR MATERIALS! A great way to give your outdoor space a collected, designed look is to find the perfect balance between a matching set and too many types of furniture in one area. You could use a fun coffee table or end table to break up the matchy-matchy look. If you have dining and deep seating in the same space, you can use a coffee table out of the same collection as the dining in front of your sofa!
7) PLAY GOLDILOCKS! In this digital age, it's so easy to click-click-order furniture that looks amazing online at 3 in the morning. I will caution- it's very hard to tell the scale of furniture from an online picture. You really, really REALLY need to sit in furniture before you buy it if at all possible. We are all different heights and sizes and furniture can look super cute online but but feel awful in person (or the reverse). We small brick-and-mortar businesses try hard to give you a curated selection of furniture collections. We go to the furniture markets, sit-test everything, and use our years of experience to pick the best, most comfortable, and stylish product we can for you! Come see us and try all of the many collections we have on the floor!
We hope these ideas have helped, and we promise to expand upon these in future weeks!
Enjoy these beautiful late summer days on your porch- and if you are still looking for that perfect collection, we are happy to help you put the space together- come see us anytime, and don't forget your pictures and floor plans!
Yours in decorating,
Katie