About Williamsburg Wicker Patio & Home
Richmond Road, Williamsburg VA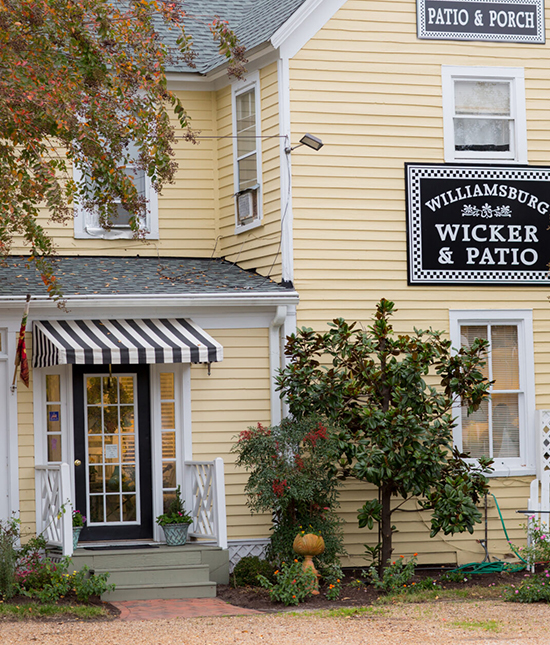 Williamsburg Wicker Patio & Home is a second generation family- owned and -operated establishment with more than 30 years in the Williamsburg community. We focus on finding the best selection of wicker, rattan, aluminum, upholstery, sling, teak and polymer furniture for indoor, outdoor and porch, all at highly discounted prices.
We also pride ourselves on our exceptional customer service, excellent interior design skills, and friendly, knowledgeable staff. Let us draw out your floor plan and help you arrange your room – bring us photos of your existing space and your design inspiration, such as other fabrics in the room, paint and flooring samples, magazine photos, art pieces, and Pinterest boards.
In addition to helping you select the perfect furniture, we can help you add the finishing touches from our accessories collection. Come see our beautiful indoor and outdoor rugs, lamps, art, pillows, and more.
Our Patio & Home furnishings store is located just outside of Historic Williamsburg VA in a beautiful, turn-of-the-century farmhouse in the small village of Norge. We hope you'll take time to explore our elegant country terrace and flowering fruit trees. You may even catch sight of Oscar in his garden! 
We look forward to meeting you, and helping you find the perfect solution for all your home furnishing needs. Don't forget your floorplans for the free design consultation.
Proud to Be a Part of the Village of Norge
Williamsburg Wicker is proud to be a part of the history of the village of Norge. Norge was founded in 1904 by Norwegian-Americans and other Scandinavians. Land at Norge was reasonably priced and offered rich farm land in a gentler climate than that of the northern and Midwestern states, where some of the immigrants had originally settled upon coming to America. Our beautiful building was once the Bergh Hotel, opened by Alfred Bergh in 1906. The hotel's tearoom sat on what is now Richmond Road.